Today I wanted to talk to you about setting goals. Setting goals is super important. Goals keep you motivated and always reaching. Once you reach a goal, there is a certain joy that comes along with the achievement. Your individual goal can be big or small, short or long-term. I like to create different small goals for each day or sometimes for the enitre week. For example, I will make a goal to do all of my work for school ahead of schedule. Or if it is a big project, I will set goal dates where I wish to have a certain amount of work finished by a certain day, and this helps me finish my work on time and feel less pressure.  I like to make goals out of anything: Goal: To recycle more often, Goal: To drink water all day, Goal: To go to the gym 3 days a week. Goal: To graduate in Spring 2012 Goal: To save a certain amout of money.
Creating goals gives us something to reach for and to accomplish. With out something to keep us going we will lose out on the awarding feeling of accomplishing things and thus lose this motivation.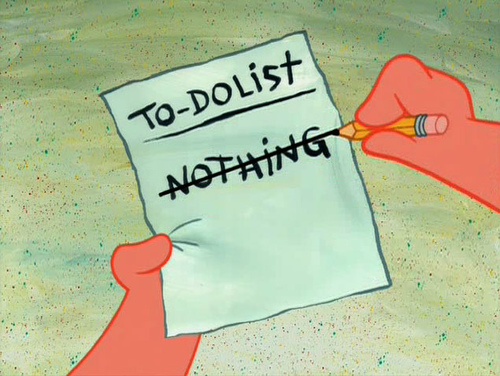 It helps to write down your goals be it short or long term. This can be almost like a to-do list. Check them off as you accomplish them and dont be afraid to treat yourself when you accomplish a  goal that you have been working toward.
Reach for the sky in anything that you do!
Don't get fustrated if you dont accomplish your goal, keep working towards it or restablish your goal and make it more attainable, and work from that point. You can have as many goals as you want, just do not give up! Motivation and ambition will grow from creating and making goals, two very appealing traits!
Good Luck!
Random Fact: The Baby Ruth candy bar was actually named after Grover Cleveland's baby daughter, Ruth.
9 Responses
Leave a Comment