This is just for fun, please don't think I'm trying to create stereotypes.
But you gotta admit, it's pretty accurate.
___
The Nursing Students
That chill, sometimes-around student who you normally see in class and nowhere else? Yeah, they're probably a nursing student. They are there and they are many. Don't let their focused calm fool you, though– they're actually never free because they're so busy working hard to get that nursing degree, and no one but fellow nursing students can understand.
The "I'm There All Day" People
7am? Oh look, there they are in the library. 9pm? What the– they're still in the library, but in a different place. The "There All Day" people are, you see, at CCBC all day. The thing is, they probably only had like 1 or 2 classes that day OR, dare I say, NO classes that day, and were on campus all day anyway. You can catch them carrying too many bags literally ANYWHERE on campus, and everyone knows them because they're as ever-present as the $1 fries in the cafeteria. They also often take the bus, which makes their days even longer than you know…ow..w…
 Starbucks-esque People
There they are. In the cafe. Chilling. Drinking coffee. Eatin' a wrap. You never see them again. Do they even go to CCBC…? Are there people who show up just to use the Einstein Bros at Catonsville? Is that a thing that people do? Are they even students?!
Desperate Follow-You-Around People
They do have class, sometimes. You know this, because these are the rare occasions where they are not following a certain person/group literally everywhere they go. They are everywhere, and they are many. Perhaps… you are one of them. OoOoOoOoOoOoOo.
Art Students
People think being an art student is easy. It is not, apparently, easy at all, because art students tend to spend their very-little free time telling people such. The evolution of an art student goes from a semester of having time to join clubs and hang out, to a semester of being NEVER SEEN AGAIN. 
Theater People
Theater People are a tightly-knit group who tend to hang out backstage/in the dressing room and are rarely spotted anywhere else. They have inside jokes from their plays and skits, but are always willing to share the fun by inviting you to all of their performances.
Adults Going Back to School
These are the adults who decide to go back to school. You usually just see them in your classes because many of them are parents as well. They tend to be good students and don't try and cheat off of you. TEND to be, anyway. The other option is the adults going back to school who try and cheat off of EVERYONE. Just because you're not 20 does not mean that you are exempt from rules, adultier-adults!
Adults Who Want to Fit In With Young People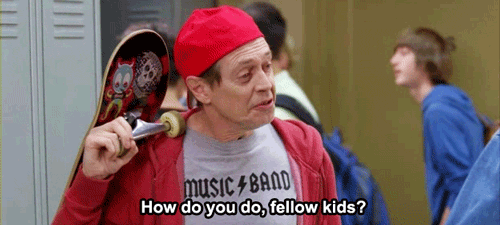 And then there are the adults who are going back to school… to relive their college days. The only problem is, they are not college-age. They're like, 47. They have kids who are also in college. KIDS, I tell you. They can be spotted making fun of popular culture with groups of 20-somethings.
Fake Popular People
You know who they are. The only problem is, apparently they did not get the memo that there AREN'T POPULAR KIDS AT CCBC. Something cool is that anyone can be friends regardless. However, certain people (likely people who were not popular in high school) create a "popular person" persona for CCBC and everyone knows that it isn't a thing, but kind of humor them anyway.
Athletes Who Pretend They're Star Jocks Like They Were in High School
These people didn't get the memo either. Hooray for confidence, though!
Cafeteria People
Cafeteria people are not just people who can be found in the cafeteria, they are just a certain kind of college student in general. You can find cafeteria people anywhere except for the cafe, for that is not their domain. Cafeteria people are loud and travel in packs. A lone cafeteria person may only be spotted when they are in class, or waiting for a bus.
Been-There-For-Too-Long People
You know they've been at CCBC for too long when you've actually HEARD of them, but never actually spoken to them. Perhaps they started there as a PEP student. Perhaps they only have time for a few classes a semester. Whatever the reason, there they are, still around, and they like to tell you so, too. Then one day they leave and it is as if there is an empty space in the universe. Emphasis on the ONE DAY.
Older  20-Somethings Who Are Still There
Related to the above category, the thing about these older 20-somethings is that either they have always been there, or only recently appeared there. And then everyone is surprised to find out they are four years older than you guessed that they were. Luckily, it's CCBC. Nobody cares.
People Who Are Randomly Visiting Back to CCBC
Hey! Look! It's– wait a second. Didn't they transfer already? Didn't they move to Kentucky? Didn't they graduate? Why are THEY here? The answer is this: In the end, we all love CCBC in our own way. Once a CCBC student, always a CCBC student.