Gobble gobble gobble! Happy Thanksgiving everyone
. Thanksgiving reminds me of the beginning of the holiday season, which means a lot of traveling! With a swift harsh winter coming up, safety issues such as pot holes, a pet peeve of mine, are bound to become inevitable fixtures of not just the ubiquitous pockmarked streets in Baltimore but all over the interstate. So I wanted to find out how pot holes form. Lets take a look (from pothole.info):
Northerners swear potholes are the product of winter's freeze-thaw cycles. And they are correct. But even subtropical areas that rarely experience freezing temperatures have notorious road repair problems too. According to "Rough Roads Ahead," a report from the American Association of State Highway and Transportation Officials, an industry trade group, more than 60 percent of streets and highways in Los Angeles, San Francisco, San Jose, Oakland and Honolulu provide a "poor quality ride."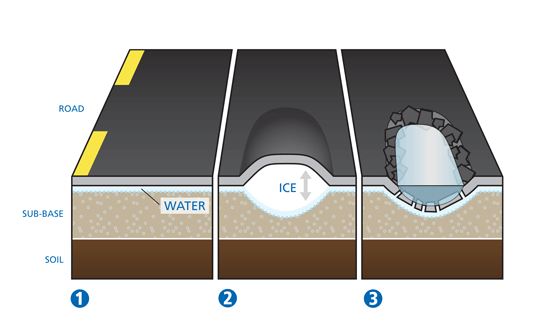 To understand how those potholes form in either climate, it helps to know how roads are built in the first place. All streets and highways since the 19th century have basically been built the same, by the Macadam method. There are concrete roads and highways, but they are largely out of favor because seams between sections lead to an unpleasant ride. Concrete also has deterioration problems that cause potholes (chuckholes and kettles, by their other names).
A macadam road is built by using angular (not rounded) stones that essentially lock together when compressed. Some roads are built over bedrock, but macadamization (sounds like macadamia…mmmMMM) enables building roads over dirt, which was a fast improvement in its day, widely expanding where roads could be constructed.
All roads are built to avoid an accumulation of water. But water is very insistent. It finds a way in and under pavement. The crown and the emulsifying agents only work at repelling water until there is a compromise in that pavement: cracks due to traffic wear and tear, cuts from utility work and pavement separations due to extreme heat and sunlight. In low areas, such as under railroad viaducts and highway overpasses, water simply accumulates after storms.
Once there is an opening, water seeps into pavement. It might expand and contract in freeze-thaw cycles. Water can also, in sufficient quantities, wash out the lower layers of stone and dirt supporting the surface layer. In warmer climates not subject to freeze-thaw cycles, the problem begins with heat-caused deterioration. Cracks from the heat allow water in, eroding the sub-surface layers. In either case, an air gap is formed in the sub-base of the pavement. As vehicles pass over these sub-surface gaps, the top layer sags, collapses and crumbles. A pothole is born.
Thus my commutes to Essex and Dundalk are filled will intense jaw chattering and shaken-brain syndrome from driving over numerous potholes. Especially at Dundalk. Nevertheless, these ostensible potholes keep us awake on the roads; albeit having us mutter under our breaths.
Well there you have it! Potholes do indeed reflect the deteriorating state of our roads today.